Workshop Garage with Porch
12x26 Vinyl Designer Garage High Wall Barn
2 LARGE WINDOWS WITH SHUTTERS
14x20 Pequea Green, White, Black
12' x 24' Workshop Garage. Clay paint exterior, white trim, black shutters, and weatherwood shingles.
7' WALLS 1 GABLE OVERHANG
12x28 Vinyl Designer Garage
Workshop Garage with Double Doors
14'x32' Workshop Garage with Duratemp siding, tan paint, and a metal roof. It has two 24"x27" windows, a 9'x7' raised panel garage door, a 3' single door, and a 5' double door.
12x28 sage, tan, navajo weatherwood
12x20 Sandstone, Dark Brown, Shakewood
12x24 Wood Garage High Wall Barn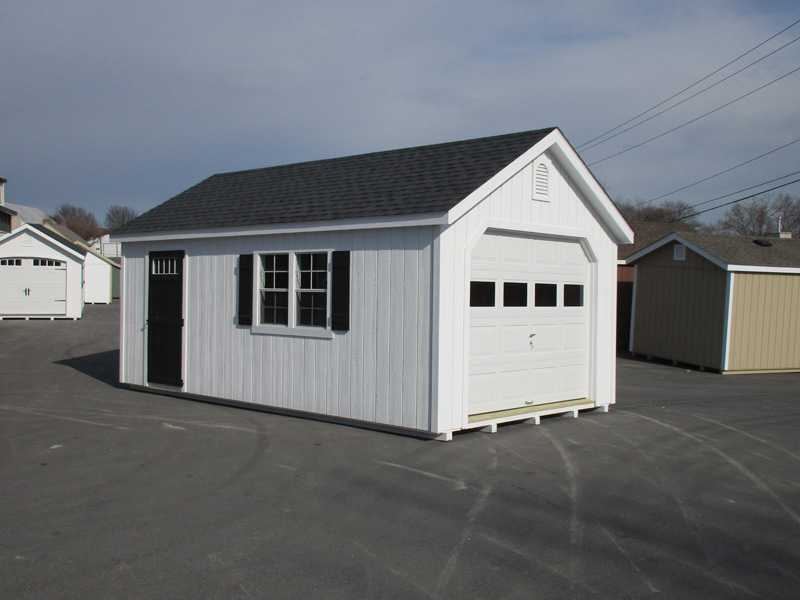 12x21 Wood Workshop Garage 7" overhang
Click here to view all available colors for shed base, trim, shutters, and roofing.
Protect your car, truck or boat in your own garage. A practical solution for security and protection from the elements.
Available in either a Workshop or High Wall Barn style.
Why drive around looking for a parking space when you can have your own garage? A garage will not only add to the value of your home, but will protect the investment you have in your car, truck, boat, or motorcycle. You may also check to see if your insurance offers discounts for off-street garage parking.
The garages have a specially constructed floor to hold the weight of your vehicle.