Are you looking for a way to increase your storage without breaking the bank?

Are you wanting a prefab garage option that provides basic vehicle and household storage while being customized to fit your existing property and buildings?
If this describes you, then the modular garage is your solution!
Built to be economical while still providing ample storage for one or two vehicles, as well as household or shop storage, the prefab modular garage can be a great addition to your home, shop, or backyard.
24x36 Vinyl 2 Car Garage Truss Series
28x36 Wood Garage Attic Truss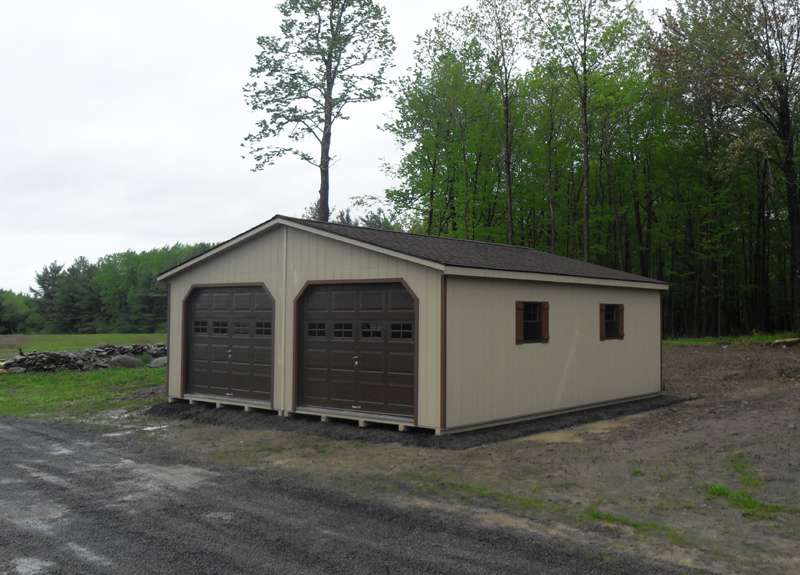 24x26 Vinyl Garage King Series
3 STEPS TO YOUR PERFECT BACKYARD SPACE
1. Choose Your Garage

Speak to one of our building experts to answer any questions about your structure.

2. Review Estimate

You get the perfect design and price. Review and approve at your convenience.

3. Enjoy your space

Enjoy a space that is exactly like you dream of.
Yes, modular garages can be customized similar to a storage shed.  You can make adjustments to doors, windows, and trim options.
No, A-Frames take customization to the next level by allowing door dimensions to be changed, roof pitch to be modified, and multiple other roof and second story options.
They can be built on the factory floor and delivered to the site fully built.
Yes, modular garages are required to have a floor when built.
Typically yes. If your town has unusual permitting requirements, then you should check first.
No, building a structure offsite does not decrease its stability or strength.
It depends on the exact width of the garage, but usually 13'-15' width is sufficient.
Mid Atlantic and New England states (excluding Long Island).
Thank you Pequea for my garage/workshop.  It's super and is just as I pictured it when we were planning it.  You guys were great to deal with, the price was excellent, the quality is far above most, and Allen was very accommodating as I changed my mind on numerous options.  Thank you so much; I couldn't be happier!
Chuck Houser
Why a Prefab Modular Garage?
Modular garages are the most basic line of garages.  They are ideal for simple storage, whether it is for a vehicle, yard equipment, or general household storage.
Their basic design makes them one of the most affordable garages to own.  However, don't let a cheaper price tag fool you; they have a lot of customizable options!  From trim, siding, window and door placement, and size; modular garages are designed to make a great fit in your backyard.
Modular garages are a prefab garage model, which means they are built off-site, delivered to the location, and then assembled on site.  
Typical modular garages range from 1-car options to 2-car.  Because of their roof and truss structure, they typically cannot be wider than two garage bays.
To prepare for a prefab modular garage, you will need a properly built crushed stone base.  Your local excavating contractor can do this for you, or you can contact us and we will help you find a local contractor!
Many of our prefab modular garages can be delivered and assembled on your site in only one day!  We deliver to PA, NY, MD, DE, CT, WV, and OH. If you don't live in one of these states, but are in the surrounding area, contact us to see if we would deliver to your site.
Our focus at Pequea is to deliver the perfect prefab modular garage that will be the perfect fit for your home, backyard, shop, or office.  Contact us today to see how we combine quality, experience, and customer service into every one of our modular garages!
If you are looking for customizable options that you can't find in a prefab modular garage, then take a look at our A-Frame garages which give you a wide range of customization options, including additional garage bays, attic storage options, and 2nd-floor living space.
If you are more interested in a unique design, or maximizing the footprint that you have for storage, then look at our Gambrel garage options!