Are you looking for a fully customized garage whose color scheme, trim style, and storage options will fit perfectly into your existing home and property?
Do you want a garage with ample storage options that also provides an option for 2nd-story storage or living space?
If you answered "yes" to these questions, then the A-frame garage is your solution!
Built to provide custom storage options while fitting aesthetically into your backyard; the A-frame garage is the ideal solution for your hobbies, vehicles, 2nd-floor living options, and household storage.
TRUSS AND RAFTER STYLE OPTIONS
TRUSS SERIES
Lowest cost

Most basic design

Attic has limited, if any, storage

Clear span first floor
ATTIC SERIES
Most cost effective garage with a second floor

Center section of the second floor can be used for storage or office

Clear span first floor
KING SERIES
Unique style that allows for second floor with more head-room height

A rafter system is used which means the entire second floor is usable space in that the whole floor is covered with sheathing

The first floor is not clear span; it needs a post
EMPIRE SERIES
Full first and second floor

Clear span first floor
TWO STORY SERIES
The ultimate in first and second floor room!

Truss rafters are used in the attic

Clear span first and second floor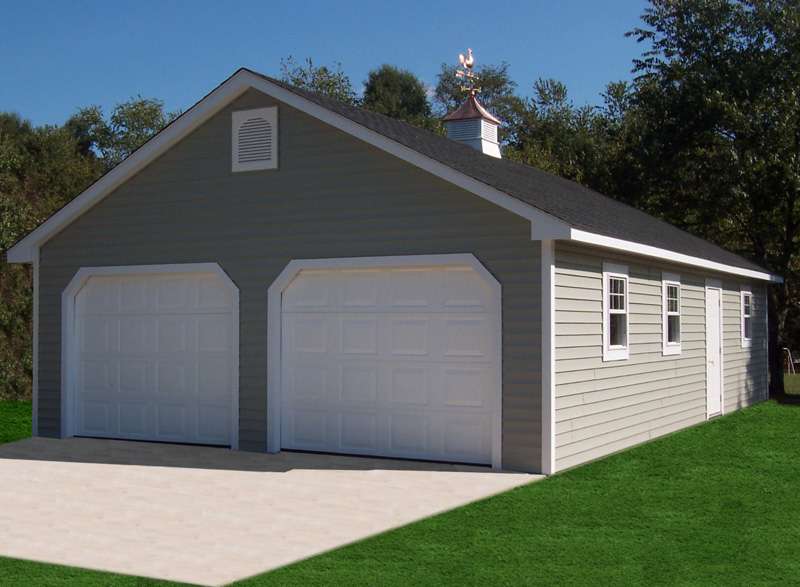 24x36 Vinyl 2 Car Garage Truss Series
28x36 Wood Garage Attic Truss
24x26 Vinyl Garage King Series
3 STEPS TO YOUR PERFECT BACKYARD SPACE
1. Choose Your Garage

Speak to one of our building experts to answer any questions about your structure.

2. Review Estimate

You get the perfect design and price. Review and approve at your convenience.

3. Enjoy your space

Enjoy a space that is exactly like you dream of.
Custom Built For Your Exact Needs
Our two-car garages can be designed to your specifications. Some of the garages can be built on site in only one day!
Two car garages can be built on site in Pennsylvania, New Jersey, Maryland, New York, Delaware, Connecticut, West Virginia, Ohio, and the surrounding areas (we are not limited to the states above)
Garages custom made are a highly effective solution to tight areas or replacing that old worn out garage. In cities you may have odd size limitations or just can't find the prebuilt garage that will meet your needs. Here at Pequea we can take your unique requirements and put together a quote for garages custom built for your exact needs. Your quote will include delivery and set up. We are able to deliver garages to anywhere in New Jersey, Pennsylvania, Maryland, Virginia and many other states as well.
Typically yes, we have access to a wide range of colors and styles to match existing buildings.
Onsite time is usually between 2-5 days.
Mid Atlantic and New England states (excluding Long Island).
Yes, this is included and often required for building permits.
We will be happy to help!  Call us at 717-768-8980.
We highly recommend a concrete base, but we can make exceptions depending on your structure and situation.
We include a 5-year limited warranty on our manufacturing and materials.  Please talk to our team for further details.
The guys just left, and the garage is beautiful!  It is an exact match for our house's siding and shingles.  Everything about the garage is perfect, and it looks wonderful with the house.  We are very happy customers and will definitely tell everyone about Pequea.  It is a wonderful garage that will serve our storage needs in a beautiful manner for many years to come.
Mark and Dawn Dodd
A-Frame garages are the most customizable of any of our garages.  They allow full control over the number and size of the overhead doors, total garage footprint, 2nd-floor storage and living options, and complete control over colors and style.
From the overhead doors to the windows, A-Frame garages will allow you to customize the colors, sizes, and layout of your garage.  The result is your dream garage providing you with room for your hobbies, vehicles, and storage; while also aesthetically fitting in perfectly with your existing home and landscaping.
To prepare for your A-Frame garage, you will need a properly built concrete pad.  Your local concrete contractor can do this for you, or you can contact us, and we will help you find a local contractor!
We include a 5-year limited warranty on our manufacturing and materials.  We also include roof truss/weight loads and building plans. These are yours for future reference and may be required for a building permit.
Many of our A-Frame garages can be delivered and assembled on your site.  It typically takes 2-5 days of construction time. We deliver to PA, NY, MD, DE, CT, WV, and OH.  If you don't live in one of these states but are in the surrounding area, contact us to see if we would deliver to your site.
Our focus at Pequea is to deliver the perfect A-Frame garage that will be the perfect fit for your home, backyard, shop, or office.  Contact us today to see how we combine quality, experience, and customer service into every one of our A-Frame garages!
If you are looking for a more basic garage design, look at our modular garages.  These garages don't have as many size options or the 2nd-floor option, but their basic design also makes them cheaper.  Modular garages do not require a concrete base and can instead be placed directly on a properly prepared stone pad or foundation.
If you are more interested in a unique design or maximizing the footprint that you have for storage, then look at our Gambrel garage options!