20' wood dodecagon gazebo with clay paint, double roof, spindle balusters, and the heavy timber package
Heavy Timber Gazebos are a rigid, impressive outdoor structure
20' Vinyl Dodecagon Gazebo
AVAILABLE IN WOOD, VINYL, OR HEAVY TIMBER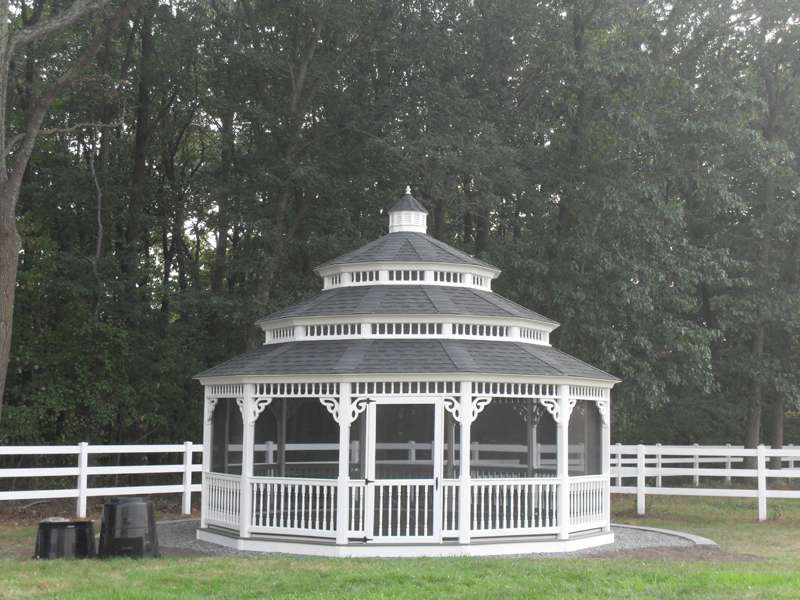 20' vinyl dodecagon gazebo with triple roof, spindle balusters, victorian braces, and screen package
20' vinyl dodecagon with triple roof, screens, and victorian braces.
20' wood dodecagon with clay paint, double roof, screens, and the heavy timber package
20' Dodecagon Gazebo; Clear coat; Red Roof; Benches
The Wooden Gazebo is constructed with 6x6 posts and can be coated or painted to your specific needs.
The Vinyl Gazebo has a wide variety of sizes and post styles to choose from
The dodecagon gazebo is a larger structure well suited to a public area or larger property. A dodecagon by definition is simply a 12-sided shape. We have applied this shape to our gazebos which results in a more rounded structure.
Any gazebo that is 18' in diameter or larger can be ordered as a dodecagon.
The Park is getting fuller every year and more shelter must be acquired! How about the spacious Dodecagon equipped with our screening package?
The Dodecagon Gazebo is an excellent option for you if you require lots of space for your large company barbecues or family cookouts.