4 Creative Ways To Use A Prefab Garage [with pictures]
We all need space. 
And when we don't have it, our lives become little whirlwinds of confusion and frustration. 
Sometimes the confusion is simple: you can't find your car keys, or maybe you need to dig around in the attic for a dusty box piled under mounds of other junk. 
But sometimes the confusion mounts to frustration - we start storming out of rooms or snapping at our family. 
We get it. At Pequea Structures, we want to help you avoid those feelings of confusion and frustration. 
That's why we're writing this article - so you can creatively use your prefab garage and have more space in your life.  
Let's get started!
Most people build garages to give themselves more space. And that makes sense - detached garages are a great way to expand your storage space. 
(Read our blog on 6 Best Ways to Maximize Your Garage Storage for some great organizational tips!) 
But we're here to tell you that your prefabricated garage can be used for more than storing lawn tractors and yard games. 
Let's get creative on four ways to utilize your extra space! 
Prefab Garages With Living Quarters
Yes, you can live in a prefab garage! 
In fact, your options are limitless. 
If you'd like lots of living space, go ahead and make your entire garage into an apartment! You can choose to go small and cozy, or more spacious - it's up to you. 
If you want to keep space for storing items, you can fit your garage with a loft or second story studio and store things on the ground floor.  
And remember - even if no one from your family uses the living space, you can rent it on Airbnb or even monthly as a traditional apartment. 
Just make sure you choose a prefab garage style that allows for a second story. At Pequea Structures, many customers purchase A-Frame or Gambrel garages when they want second story living quarters. 
Most workshops are fitted with hammers, saws, weedeaters, and other tools. 
But some people find their workplace in a study or home office. 
For those individuals, a prefabricated garage can act as a "workshop," especially if there isn't adequate room in the house for a home office. 
In other words, you can still "work from home" and never leave your property even if there isn't space in your house. 
As a bonus, moving your home office outside of your home allows you to get away from noise and distraction and focus on what's important. 
Sometimes you need space for work outside of your 8-5 job - especially if you enjoy a craft or hobby that is messy or takes up a lot of space. 
Thankfully, prefab garages are almost less expensive than an addition to a house, and getting them built is always less intrusive and takes way less time. 
If you need more space and want to get it without upending your whole life, a prefab garage is a great option.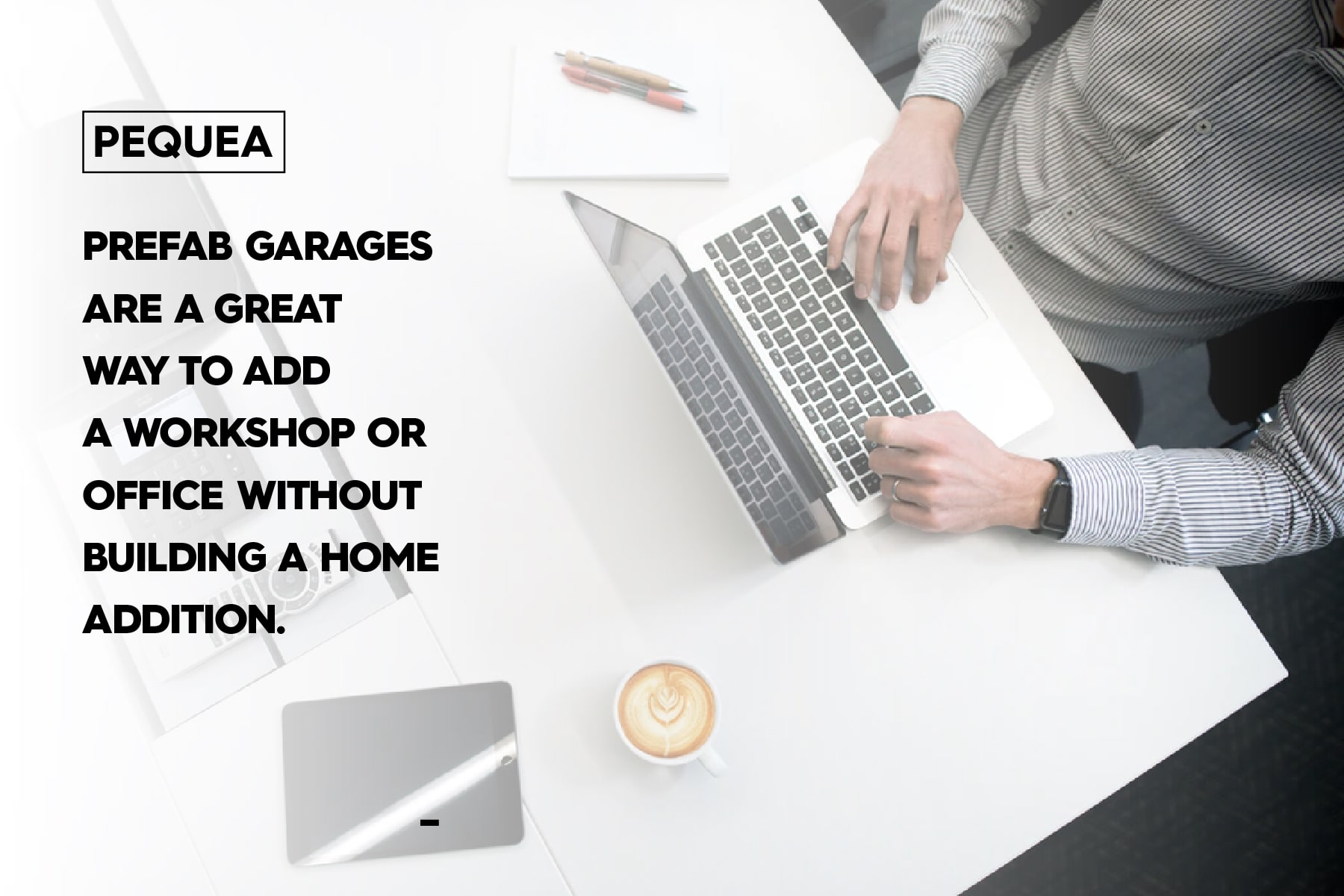 Prefab Garage Entertainment Space
Who says your extra space always has to be for work? 
Maybe you need some extra space for relaxing! 
Prefab garages make great dens, man-caves, and she-rooms. Since they aren't attached directly to homes, they allow the owner of that space to have a domain. 
For example: 
The husband that loves to hunt finally has a place to hang his trophy whitetail deer in his man cave. 
And entertainment spaces aren't just for adults! If you need a space to send the kids when they are too rowdy, a prefab garage makes a great playroom. 
Just make sure you plan the size of your prefab garage around the type of entertainment you want to do. 
A ping-pong table or pool table takes up a lot more space than a drum set, so you would have to plan accordingly.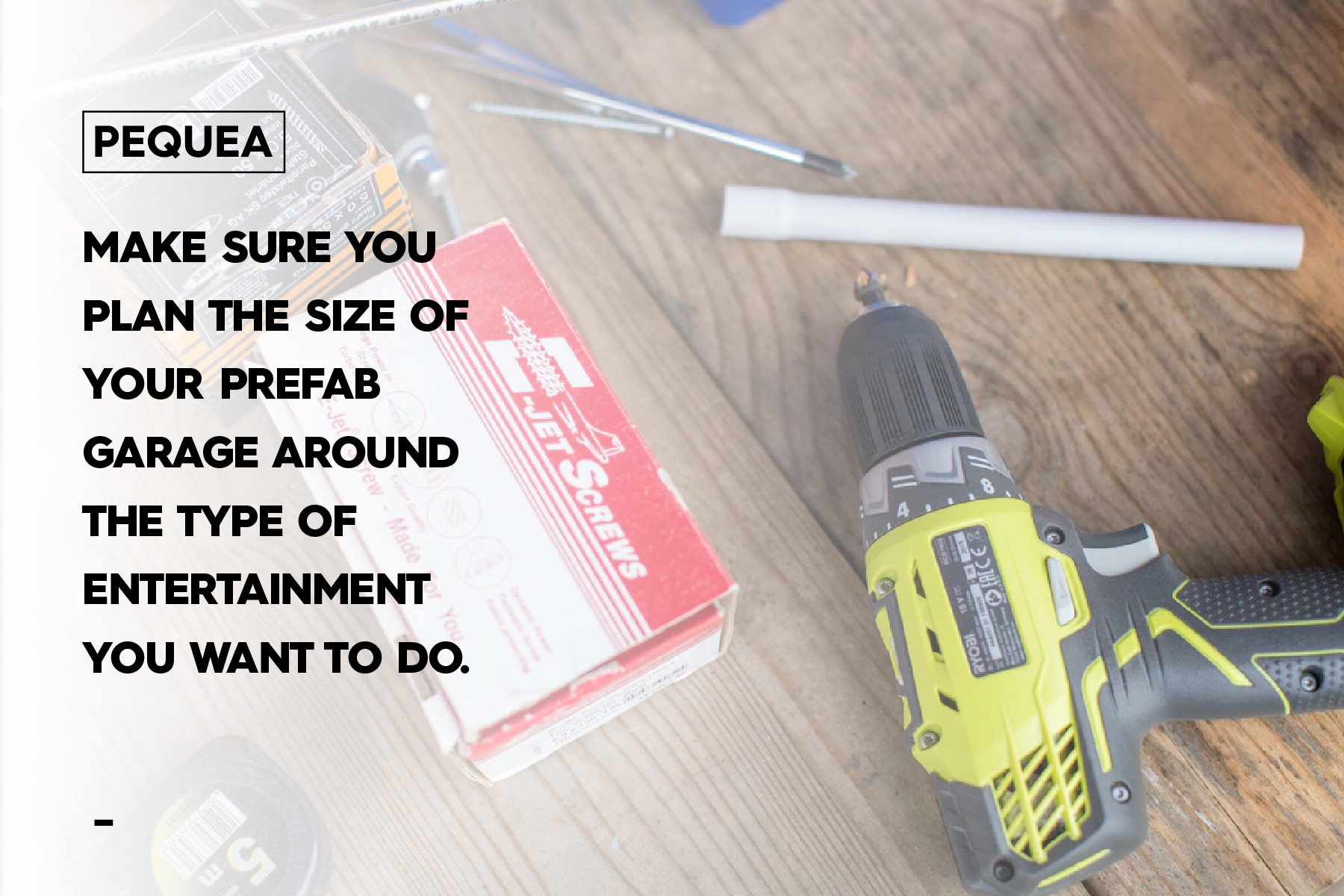 Prefab Garage Gym Or Fitness Studio
Do you have exercise equipment but no place to set it up? Consider making a prefab garage into a home gym. 
You can customize your space into a home gym, a fitness studio, or a dance practice floor.
No matter what kind of exercise you are interested in, you can work out without worrying about being judged by others. You can even play the music you want - without wearing headphones or earbuds! 
And the best part?
You can finally say good-bye to your gym membership fee. 
It's a win-win!